"The remaining soldier of the Ironclads. Sold his soul to harness demonic energies."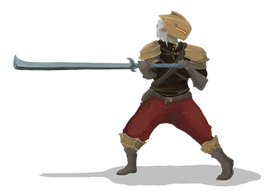 The Ironclad is one of three playable characters in Slay the Spire. He wields an arsenal of powerful strikes, boasts formidable defensive options, and can draw fiendish power from his demonic benefactors. The default deck contains:
The Ironclad's starting Relic is Burning Blood, which heals 6 HP after every combat.
See Ironclad cards for a full list of cards available to the Ironclad.
Strategies
Edit
There are many possible combinations of cards that work well together. It is often useful to not take a card if it doesn't support the combo you are going for. Some strategies include (please add more!):
High defense
Edit
This strategy focuses on building up block over multiple turns, potentially eliminating incoming damage. Plated Armor is an excellent fit in this build.
Body Slam and Juggernaut are excellent sources of damage, which is still important to winning.
High strength with high volume of attacks
Edit
Searing Blow
Edit
Upgrade Searing Blow

every opportunity you can.
Very difficult to commit to but Searing Blow's

damage raises exponentially and would eventually reach 100+ damage at its tenth upgrade.
The high damage will synergize very well with Dual Wield

in multiplying its number within your deck.
Exhaustion synergy
Edit
This strategy gains power from exhausting cards. In addition to those listed here, cards that are exhausted upon use are helpful here.
Exhaustion / Defense Combo
Edit
Perfected Strike synergy
Edit
Card Draw + Fiend Fire
Edit
Gather a lot of cards, especially cards with card draw and energy like Battle Trance
With a lot of cards in your hand use Fiend Fire

to deal high damage to target. 
Fiend Fire

scales very well with strength and relics.
Unlock Number
Prizes Unlocked
1st
Heavy Blade

, Spot Weakness

, Limit Break

2nd
Omamori, Prayer Wheel, Shovel
3rd
Wild Strike

, Evolve

, Immolate

4th
Havoc

, Sentinel

, Exhume

5th
Blue Candle, Dead Branch, Singing Bowl